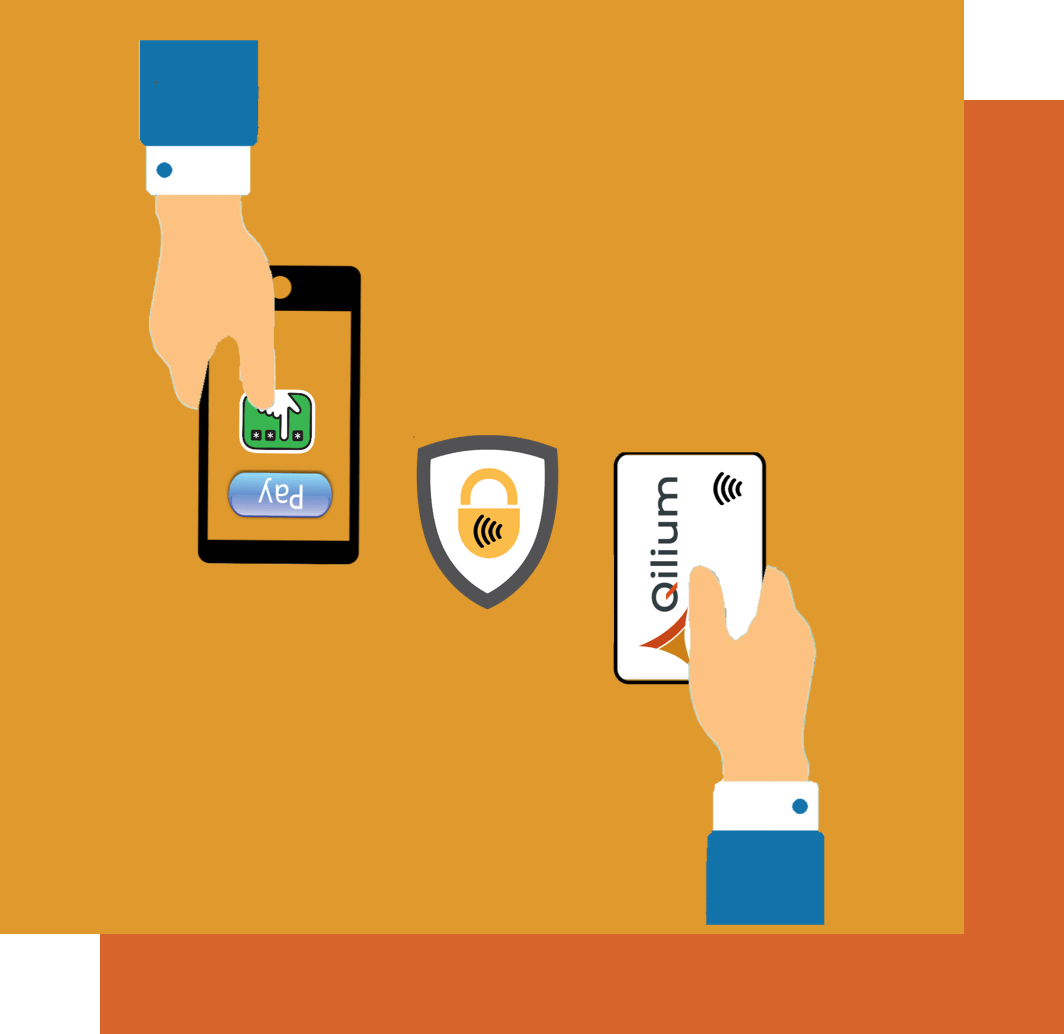 Discover our last Innovation:
SWIPE'N TRUST
Swipe'n trust secures digital access using standard NFC-phone or -tablet.
People: On Android, IOS or Windows NFC-Phone, verify chip authenticity to access e-services | grant access or logon to a member zone | secure mobile banking application | verify proof of presence | enhances customer experience.
Goods: Verify brand authenticity | Restrict Access to Information reading, writing or updating on a database collecting Inventory Information or Material Maintenance History in industrial environment | improve product marketing giving access to the latest information, incentives or media content exclusively in- store of near-product (restrict to location).
Qilium Operating System (OS) can be ported on Flash-Based Integrated Circuit.
MUTLIQ  Native Operating System with ISO/IEC 7816-4 file structure
JAVIQ      Java Card™ Operating System
Qilium offers development services to provide OS responding to required configurations, cryptographies and functionalities.
MUTLIQ can be configured to comply with various industry standards:
ICAO/MRTD | DOC 9303
NDEF | NFC FORUM™ TAG TYPE 4
OSPT™ | CIPURSE™ T
EMV | 4.2 version | CPA | SDA
SMART CARD, TICKET & LABEL
Since 2008, Qilium supports card manufacturers from requirement analysis to product personalisation.
Providing smart card chip, modules and pre-laminates, Qilium brings alternatives permitting manufacturers to differentiate from competitors and market leaders. Multi- configurations also permits to address multiple markets with a single chip.
Respecting industry standards, Qilium solution comply with all readers following ISO/IEC 7816-4 standard and ISO/IEC 7816-3 | ISO/IEC 14443 A/B communication protocols. As a result, Qilium offers easy-to-integrate & competitive products.
Qilium provides support to smart object designers, notably in securing connected device networks with TRUST IoT: a secure element to plug on device. It permits to authenticate object and entrust data collected on the field.
For IoT packaging manufacturers, Qilium provides BLE beacons with in-house developed firmware. Giving a true flexibility in term of Hardware (sensors) and Firmware (configuration, optimisation), Qilium Beacon modules are notably used in predictive maintenance, asset tracking, people safety or health monitoring.
Qilium provides innovative and secure technology in:
Identity | Passport | Health
Physical | Logical access control
Payment | Mobile Banking
Transport ticketing
Web service access
Customer augmented experience
Telecommunication
Qilium helps to improve:
Brand Protection
Store-to-web interaction
Goods identification and tracking
Qilium supports companies active in:
Predictive Maintenance
Asset tracking
Smart automation
e-Marketing | Customer care
IoT network development
Qilium secures Digital Service Access in many sector:
Protect citizen e-Identity
Secure border with e-Passport
Reduce police officer impersonation
Facilitate access to e-service with NFC
Entrust Smart Cities collected data
Fight against counterfeited products
Qilium supports decision-maker in:
Technology advisory
Project definition
Security consultancy
Partners networking